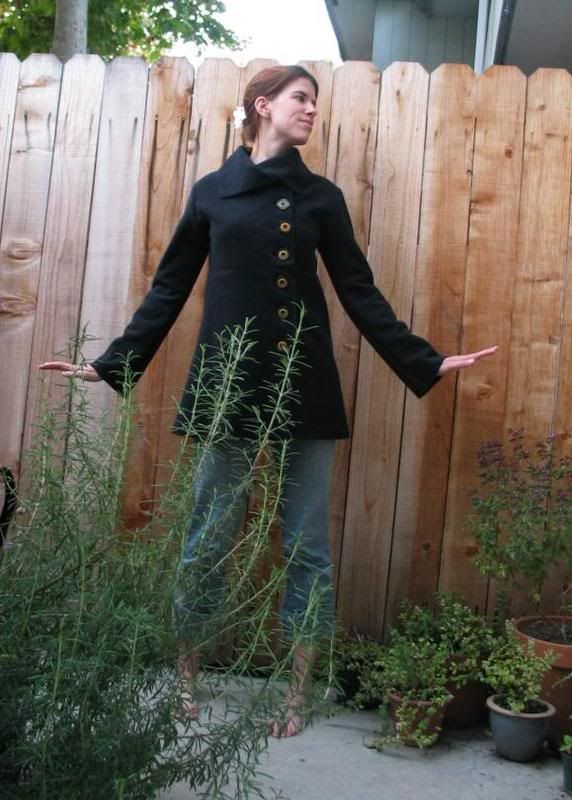 some things are coming together around here. And I say,
it's about time!
This is - obviously - the finished coat that I've been working on. It took me a while to finish as I was nervous about doing the buttonholes, nervous about cutting into it to shorten the sleeves, take up the hem, tame the collar. I'm happy to report that I'm completely satisfied with the end product. I opted to skip pockets, but we'll see if I stick with that. I have about a half yard of this wool/cashmere coating left, so I could definitely add some if I decide that's necessary, but for now I'm of the mind that they would just really interrupt the lines.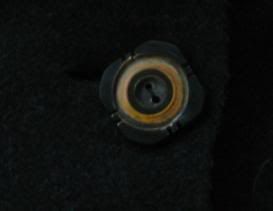 here's a close-up of those buttons. I did splurge a bit on the buttons, as I've come to realize that quality trims and details really add a lot to a garment. Plus, with the gift of these three yards of coating, I wasn't spending much overall on what turned out to be a really nice item. Thanks to my brother - the first person in my family to take my fabric request on my birthday wishlist seriously. Thanks, David!!
Almost done with that painting that's been driving me crazy. This week. I keep saying that, I know, but this time I really believe it. This week. Summer's rolling to a close soon - I'm meeting the chair next week to talk about my diagnostic exams and continued thesis prep while he's in Europe for fall quarter, and buying the book on play analysis that I want to read before I TA a class on it this fall, etc - and it's nice to see more of my personal projects come together with it.