Thus begins my fabric/recon stash clean-out and my fall-wardrobe construction. There are things I want, money I lack, and fabric to clean out, so this is my solution! I constructed this lined sweater from two grey cashmere sweaters of Cassidy's that I fulled in the wash. I scrapped the holey fronts. I lined it with leftover baby blue knit, and trimmed it with lightweight woven cotton from my stash - both to lend structural support to the cashmere. I made bias trim for the neckline, but as it's a scant 1/4 inch, it necessitated hand-sewing with tiny little stitches.
The sleeves are kind of a bubble, with a little pleat on top of each arm that I may tack down later with a button, but haven't decided yet. There's a lot of origami-esque pleating and folding on the runways these days, so I may just leave it be.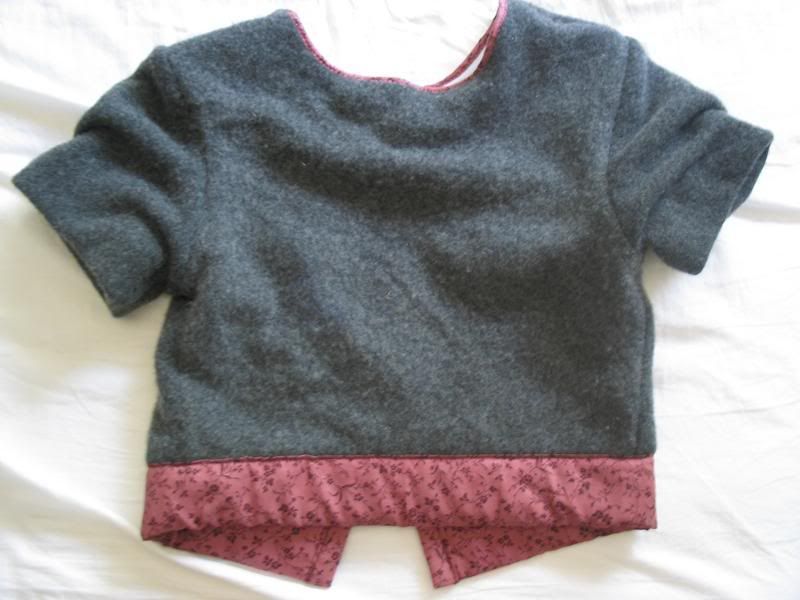 yes, the hem dips down in two points on the front.
it secures at the neckline with a leather button-tab that I secured/embellished with gold stitching. Buttons are reproductions of an 1890s poppy button - nothing fancy, just found 'em at the craft store.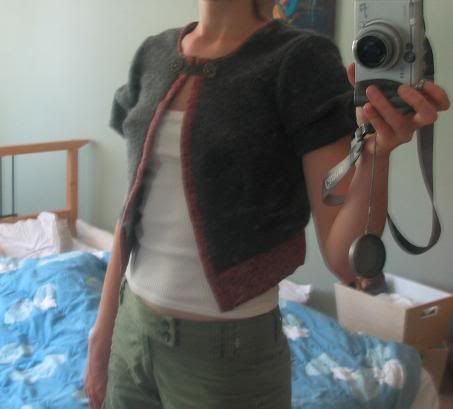 Yes, it's kind of boxy and folkloric. I keep reading that boxiness is coming back (ha! take
that
, skinny jeans!) so I thought this would be a nice, structured way to try it out for fall. It does feel lovely on - it's so fluffy and cozy, I keep thinking it should be paired with a poodle skirt.
next up: the kinda-loud slippery print fabric that I've been trying to figure out how to use for about 5 years. I hope to draft patterns - and maybe start cutting and sewing? - tonight.