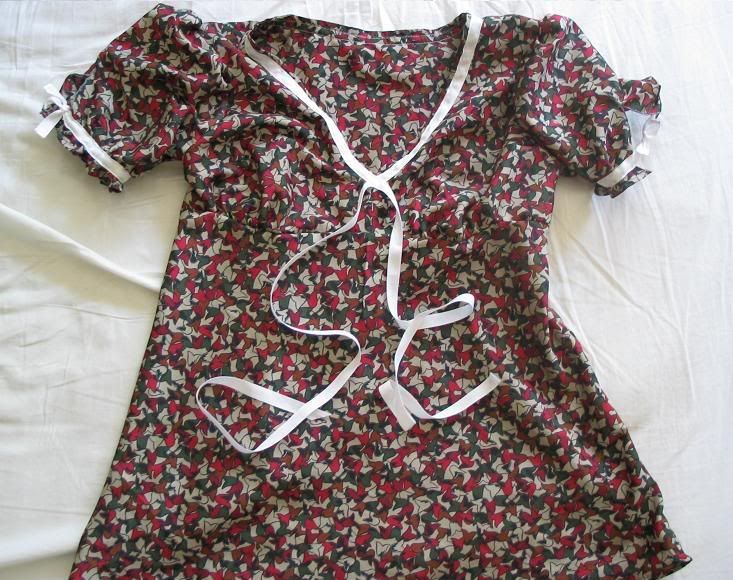 I also like to call it my "loud shirt," because the colour combination of bright pink, plum, warm brown, dark green, greige, and black is ... well, loud. To me, anyhow. Plus, I find the print slightly jarring, with all those sharp angles. However, this top was basically cheap as free to make. The fabric was something (along with 5 yards of navy silk dupioni) that my mother scored for me at a Habitat for Humanity "garage" sale years ago. I never knew what to do with this print - which is, I think, poly or nylon to boot! - until I was suddenly inspired by the rage of pattern and bright colour right now. It is getting votes of "very Marc Jacobs" over at
craftster
. I'm quite flattered, though I admit I don't get the reference - which season/collection?
The details: top is empire seamed with a gathered bust, and bottom is cut on the bias for stretch and nice drapey movement.Puff sleeves are gathered along the top of the shoulder, but slit over the top of the arm. The underside is gathered into cotton twill tape that ties the slit closed over the arm, creating an adjustable, somewhat open "puff sleeve." Top closes with a side zip and hook. Pattern is original - drafted on my dressform. Length of twill-tape ties at neck is TBD.
next up: either I try and use up some eyelet (approx 1 yd), or 2 yds of striped silk or I recon a blue silk shirt. The recon may come first, as I've been putting off doing something with it for ages, and I'm trying to get through old projects first these days. I'm welcoming any suggestions re: the eyelet in particular. I know I want to do a blouse, but what? Some kind of gathered, yoked top, maybe? I was thinking if I could find some vintage crocheted lace for the yoke and line it?